Why You Should Have a Professional Cleaner for Your Office
If you have recently started your own business, one thing you probably haven't thought much about is "who will clean my office?" You might try to take on this task in-house, but over time you may find that a cleaning service would benefit your office significantly. This gives your employees time to focus on their jobs and customers. At MC Janitorial, we take pride in providing high-quality Lenexa office cleaning services and can help you present your office in the best way possible to be successful. Here are our top reasons why you should hire an office cleaning service in Lenexa.
1. We help keep your offices clean
At MC Janitorial, our Lenexa office cleaning services consist of cleaning bathrooms, kitchens, and break rooms. We provide vacuuming, window cleaning, upholstery cleaning, medical office specialty cleaning, and the list goes on. We keep everything in your office looking and smelling clean to help you retain customers and employees. A clean office space makes everyone comfortable and can help add professionalism to your office and can help grow your business.
2. Improved Air Quality.
When you have an office cleaning service in Lenexa, you are also removing air pollutants that can get into an enclosed office environment. Pollutants can come in different forms like dust, harsh chemicals, and mold to name a few. When you have an office cleaning service in Lenexa for your business, you are cutting down on these harmful pollutants by using safe and often green products. These create a healthy and pleasant work environment for your business.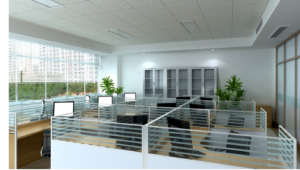 3. Improve the look and the reputation of your business.
Studies show that if your company has a dirty bathroom, that alone is enough to make customers go elsewhere for the same product. This shows that having a clean office greatly impacts the success of retaining customers and earning business. Customers will often go to businesses that take pride in the cleanliness of their brand and facilities, as that could translate to the quality of product their products. Having a clean office is essential to help build a positive reputation for your company long-term.
4. You will retain happier employees.
When you have a clean and healthy office, your staff is more likely to maintain a sense of happiness that keeps them invested in your business. Employees spend more time at work than any place, besides their homes. This makes it imperative that it be a healthy and enjoyable place, and a clean office provides this.
At MC Janitorial, we provide premium Lenexa office cleaning services, as we understand the importance of having a clutter-free and spotless workplace. We offer professional, no-hassle cleaning services that can revolve around your business's schedule. Give us a call at (913) 780-0731 or visit our website for a free quote and for more information on how we can help get your office in top-notch shape.