Is Your Office Cleaning Crew Doing a Good Job? 13 Ways to Tell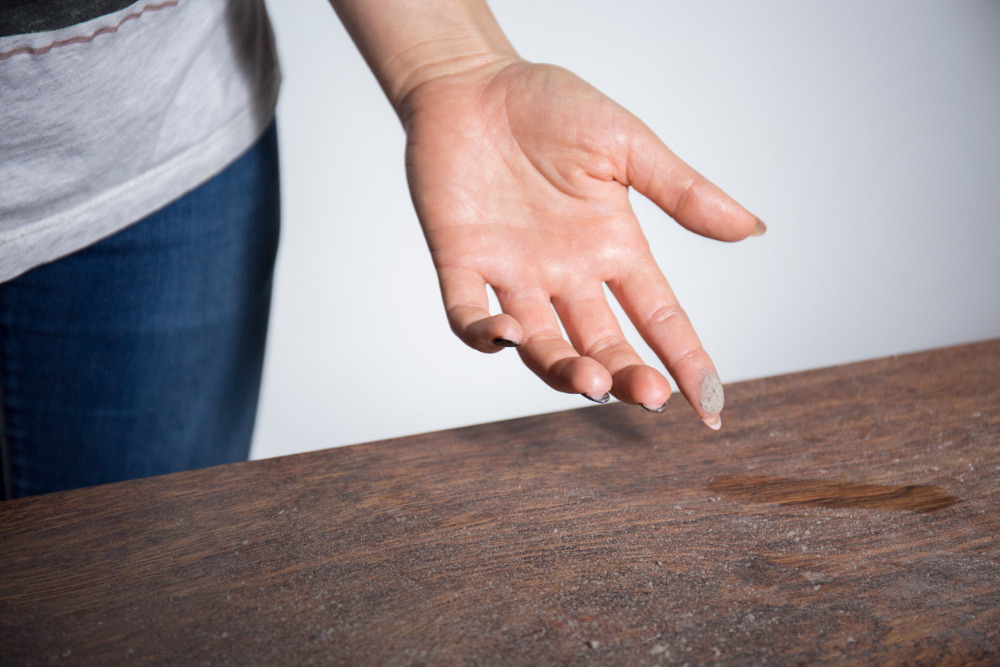 When you hire a professional office cleaning crew, you're not just hiring people who are going to take care of tidying up so you don't have to. You're investing in a clean building that meets the standards of your clients and your employees and having certain expectations for how well they do their job is your right.
Now, what kind of standards should you be applying? Here, we're going to look at the signs that you're getting the kind of high-quality janitorial services you deserve and when it might be time to look for a crew that can offer a better standard of clean.
1. You can touch all areas without worrying about trash, dust or dirt
If you want to make sure that you're getting the kind of clean that you're paying for, then you should take a closer look to make sure that the job is done right.
There are a few areas worth checking that sub-par cleaning crews often miss or just skim over. These include:
Front door
Reception desk and furniture
Breakroom area
Workstations
Small trash cans
These are the areas that your clients, visitors, and staff are most likely to be in on a regular basis. A simple fingertip test to make sure your surfaces are dirt free and a closer look to check for stains and smears should make it clear whether your cleaning team is doing their job or whether they're skipping over parts of their work.
2. The team is trained and follow proper cleaning procedures
It's a rookie mistake to think that there isn't much difference between a regular clean and professional clean. The biggest difference is that you will consistently see the same kind of super clean results, but the areas aren't actually clean. Professional cleaner training is also about safe chemical usage and storage and knowing the right products and devices to use for different areas and materials.
Well-trained cleaners have an organized and standard approach to their work, which not only means your office's cleaning standards are better, but also that they're more likely to actually get the area germ-free.
3. Their standards stay consistent over time
A professional office cleaning team should offer consistency over everything else, as mentioned above. The results of their work shouldn't change drastically each time they visit. However, more often, the risk with some cleaning crews is that apathy starts to set in. As they become used to their job, their focus on the details may become a little lax over time.
Check to make sure that you're not getting less of a comprehensive clean than you used to in the past. If it looks like apathy is starting to take root, then offering some precise feedback can course correct, but if it becomes a habit, it may be time to look for another team instead.
4. Their team doesn't look like they're in a rush
Now, most office cleaning team members want to be out of your way. They want to clean efficiently and speedily enough that they're not a major obstacle to you and your team. However, they should never be in a rush. If you happen to be at the office late when they arrive and it looks like they're speeding through areas a little too quickly, then it might be that they're not really giving the clean the kind of attention that it needs.
Some cleaning products need time to settle in order to break down dirt before they're wiped away. If your cleaning team is wiping away the cleaning product that they just put down a couple of seconds ago, it's not very likely it had the time to reach its full effect. Don't be too stressed if your cleaners are speedy workers, but do take note if they seem to be rushing the details of the work.
5. They don't get in your way
With the help of a janitorial service provider, you should be able to schedule and arrange cleaning crews to come around when it best suits your team. Many prefer that the cleaners come when the office is empty or mostly empty. However, you might not have that option. You may have to lock up when the team leaves the office, meaning that the cleaning team will share a space with your team, at least for some time.
When you do have to share a space, you can tell a professional, competent, and conscientious cleaning team by how they work around you and your team. If they are interrupting your work and fully blocking paths you rely on, then you can correct them. However, if they're consistently doing it, then it can become a problem. Better trained cleaning professionals will do what they can to clean the spaces you're not using first, and to stay out of your way as best as possible, letting you get on with your work.
6. They use safety signs and markings
If you have smooth floor surfaces, then you can expect that your cleaning team is going to leave a wet floor in their wake occasionally. All of the best products for cleaning those surfaces are wet, after all. However, truly professional cleaners are wholly conscientious of the kind of risk this can create and will do what they can to mitigate this.
Wet floor signs and any other markings that an area has been recently cleaned can help your team be aware of the potential risk and to act accordingly. If your cleaning team leaves a wet floor accessible and unattended without any kind of signage, that is a major liability and worth getting in touch about, to say the least.
7. There's no cleaning product residue left behind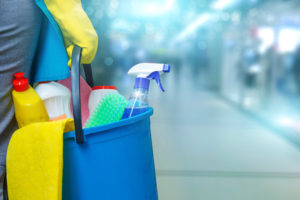 A professional cleaner will use the best products available to make sure that surfaces are clean. However, they will also make sure that their cleaning methods don't leave any additional risk or mess. Some cleaning products do leave residues on surfaces and floors. If these aren't taken care of, then they can increase the risk of slipping, as well as contamination.
Just as they should leave wet floor signs where necessary, your cleaning team should also clean up any residue their cleaning products are likely to leave, helping to keep the office safe, as well as clean.
8. Your cleaning and supply cupboard is organized and tidy
While members of a professional office cleaning team will bring some equipment with them, it's also likely that they will make use of what storage space you can provide in the office for things they might regularly use or need to restock. Simply put, it's easier to keep some things on-site to use them when needed.
If your janitorial service team is using cleaning supplies or restocking things like paper towels and toilet paper on your premises, then feel free to take a look inside once in a while. It's still your property after all. If that cupboard is clean, tidy, and has all of their equipment and products laid out and organized, it's a good sign that your cleaners take their job very seriously, take care of the products that they use, and always make sure that they're equipped for the job.
9. Members of their team carry ID cards and wear uniforms
You can tell how serious a company is about their work when they're willing to make sure their employees follow standards of dress. A uniform can help you easily identify members of the cleaning team, which makes communication with them much easier, and makes it easier to see that they are doing their work.
As well as uniforms, you should work with professional cleaning teams that ensure their team members wear ID cards. For one, you should be able to identify a member of a team if you have any questions or feedback when you get in touch with their supervisor. However, it's also important to be aware of the risk of cleaning teams that employ undocumented immigrants, as they could be giving your company unnecessary risk. ID cards can help to mitigate that risk.
10. They offer the safest and most effective cleaning supplies
It's worth taking the time to ask your office cleaning team what supplies they are using to clean the surfaces and materials in the office. Not only should they be choosing the supplies and tools that will result in the kind of clean building that you're paying for, but those supplies should be safe, as well.
Some modern cleaning products are very strong, strong enough that they can become a hazard for those who breathe the fumes produced by them. They can affect the respiratory health of your team, so be sure to check with your cleaners that they're only using safe cleaning products. Furthermore, if they're offering green cleaning methods, then check to make sure that the products they're using are environmentally friendly, as well.
11. They're timely and follow a reliable schedule
As mentioned, a good office cleaning team can follow the schedule that you set out. Depending on their own work schedule and your needs, you can find a time that's convenient for everyone. However, it's also important that they're able to follow that schedule once it's set. If they're regularly late or sometimes arrive at a completely different time, it can get in the way of your work and be a major inconvenience.
What's more, they should have a fairly reliable schedule once they're in and cleaning, too. It might take a couple of visits to figure it out, but professional cleaners will usually plan out the amount of time they spend on each task, making sure that every area gets the attention it needs before they move on. Sometimes, there's a little extra mess to deal with, which means that cleaning can take a little longer than usual. However, the schedule shouldn't be erratic, changing wildly with every visit. You should know how long you can expect them to be there, on average.
12. They have a reliable team and use the same people repeatedly
Not only should you be looking at how good a cleaning job your office cleaning team is doing you should also look at how reliable the business is run. For instance, how do they treat the workers under their employ? Are your offices being cleaned by the same people or do you repeatedly see new people?
Big cleaning teams might have large rosters, but you should hopefully see some returning faces. It's a good sign that the team is able to keep hold of their personnel. If they can't, then their staffing problems can end up affecting you. They may end up running low on manpower, which means they might not be able to meet their usual routine. However, if they seem able to retain the best cleaners, then it means they will likely be able to reliably provide their services for the foreseeable.
13. They are easy to get in touch with
All too often, cleaning teams will be eager to get in touch and to respond within the hour at the start of a contract with them. After all, they're looking to get and keep your business. However, if they become complacent and if problems start arising, they may take longer and longer to get back in touch with you.
If it takes days to get a call back from your cleaning team, or you have to get in touch multiple times about the same problem, then it's a clear sign of communication breakdown. A team that is earnestly endeavoring to do their job will be there when you need them.
Are you getting the standard of cleaning service you deserve?
If your current office cleaning crew doesn't meet most of the standards above, then it's not a stretch to say that you're getting sub-par service. If that's the case, then it may be time to look for a professional team who both know and promise the standards mentioned above.
When you're looking for a new cleaning crew, don't be afraid to ask questions about their methods or standards. The right fit should have all the answers, giving you plenty of confidence that they offer the clean building your business deserves.