Business and Medical Office Cleaning Services in Kansas City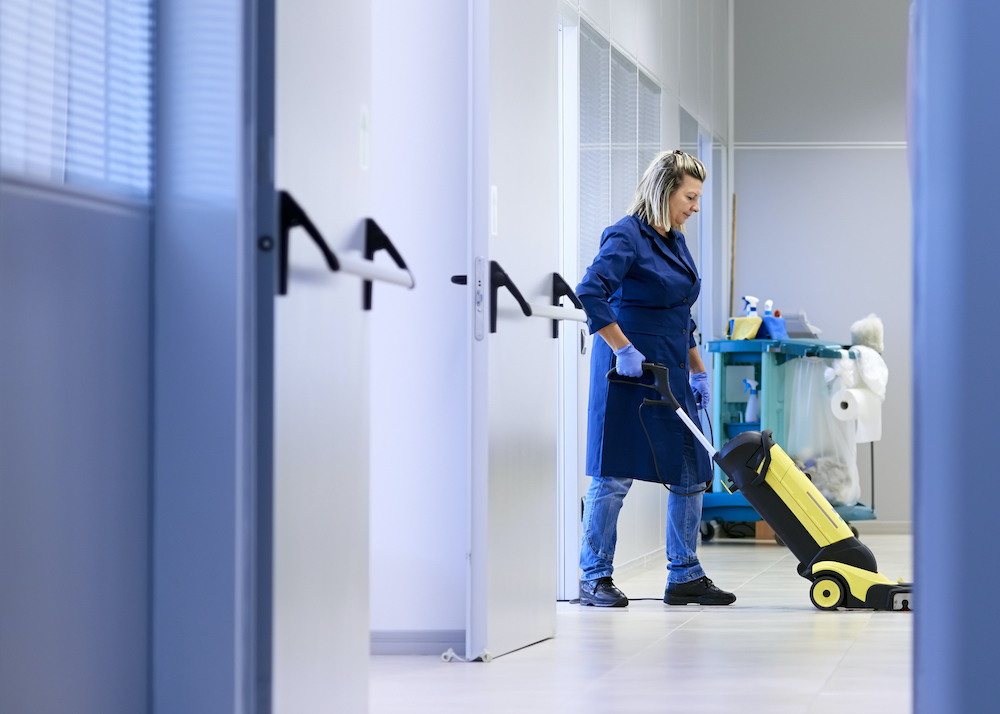 It doesn't matter whether you need general office cleaning services or something more specific, MC Janitorial is here to help. With our professional cleaning service, you can eliminate hygiene problems in your office, improve worker retention, and avoid embarrassment when entertaining clients. A clean office is a happy office, after all.
We offer professional, top-notch business and office cleaning services. Our cleaning professionals work discreetly based on a schedule that works around your regular business hours.
We're committed to working around your specific needs, ensuring that your office is spotless on a daily, weekly, or monthly basis. Call us today and find out how easy arranging cleaning services for your office can be.
The Importance Of Office Cleaning Services
Every company needs a functional cleaning schedule, including offices. Maintaining high levels of cleanliness in the corporate environment is vital for many reasons.
Office cleaning services ensure that your colleagues can work in a clean and healthy environment every day. Pleasant surroundings make it easier for you to retain talent, attract new people to your organization, and improve worker health.
Office cleaning services from MC Janitorial also help you present your company in the best possible light when bringing in new and existing clients for meetings. We ensure that the carpets are properly vacuumed, dust is removed from your ceiling fans and moldings, trash cans are emptied, and the bathrooms spotless. With us, you don't have to worry about cleaning up before your clients arrive, letting you focus exclusively on them and your business.
A clean office also improves productivity by enhancing worker wellbeing and you will potentially find that your employees are taking less sick days. Using a regular cleaning service is, therefore, an excellent investment in the operations of your company.
What Comes With Our Office Cleaning Service?
At MC Janitorial, we make sure that we customize all of our cleaning services to your needs. With us, you can get a variety of cleaning services to keep your offices looking and smelling great.
We offer the following regular services, including:
Bathroom cleaning services, including cleaning of sinks, toilets, and urinals
Vacuuming
Office waste clearing and disposal
Break room and kitchen area cleaning
Office cubicle cleaning and tidying
Window cleaning
Cleaning of blinds
Upholstery cleaning
Inspections to identify hidden dirt and grime
Medical office cleaning services
With MC Janitorial, you can pick and choose the services that you want. Our specially trained team is here to help you deal with all those problematic cleaning issues that are detracting productivity. Our specialized equipment and professional team eliminate unsightly areas and make sure that areas are truly clean.
MC Janitorial: Certified In Green Cleaning
If you are working towards making your business more sustainable, you should consider eco-friendly, daily office cleaning services. At MC Janitorial, we're certified in Green Cleaning, having attained the standards set out by the Green Cleaning Institute.
Our eco-friendly options are designed to keep the environmental impact of your business to a minimum. We use safe products and work hard to reduce our carbon emissions wherever possible.
Our Service Area
MC Janitorial is proud to service the areas in and around Kansas City, including Overland Park, Olathe, Leawood, Lee's Summit, and more. We will essentially clean any office within fifty miles of the center of town.
Get Office Cleaning From MC Janitorial Today
Office business cleaning services are an investment in your company. Not only do they help to keep your office hygienic and reduce employee sick days, but they also may help you make a good impression on clients.
Offices need cleaning services, from small businesses to massive corporations, medical facilities to office buildings. Get in touch with the MC Janitorial today and find out how we can help transform your workplace with a regular cleaning schedule.