Why You Should Hire Commercial Cleaning Services in Lenexa to Clean Your Restaurant
With COVID-19 still going strong and the restaurant industry trying to stay ahead of the game, keeping your business as clean as possible is essential. With fewer staff to keep up the workload, it makes it hard for them to find time to properly clean and sanitize surfaces to kill germs, bacteria, and viruses. Deep cleaning a restaurant is usually pushed to the back burner and often doesn't get done correctly.
Here are the top reasons why hiring commercial cleaning services in Lenexa will benefit your restaurant:
You Will Be More Likely to Stay Open
Many restaurants are not getting cleaned as often or as thoroughly as they should–and are being shut down due to COVID or flu outbreaks. This is impacting both customers and staff, which makes it difficult for restaurant owners to keep their doors open.
Anyone that owns a business knows even a short shutdown can cost you hundreds or thousands of dollars of lost revenue. A commercial janitorial company in Lenexa is a great place to invest a small amount of money to ensure your business keeps running. Keeping your staff and customers as healthy as possible with the help of janitorial services in Lenexa is well worth it.
You Will Extend the Life of Your Equipment
Anytime you take care of something, including cleaning and maintaining your equipment, you will get much more out of it. Equipment in a restaurant is very expensive to replace; therefore, keeping it in pristine condition is essential.
Ovens, freezers, fridges, microwaves, copy equipment in the office, and many other large-scale types of equipment will also stay more sanitized and healthier for your customers. The cost alone of saving your equipment will make hiring a professional commercial janitorial company in Lenexa well worth it.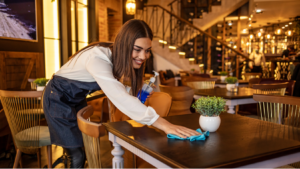 You Will Retain Employees and Keep Them Happier.
We all know it can be challenging to find and retain employees right now in the current climate. When your employees work a long shift, the last thing they want to do is think about cleaning and sanitizing and staying hours later than expected.
When your employees can focus on customer service and serving customers well, they will be happier and more likely to stay long-term. Your customers will be happier too when they see a clean restaurant and happy employees!
So many business owners don't hire a professional cleaning service because they are worried about business disruption. MC Janitorial can give you a hassle-free clean on your schedule so that your business is never disrupted. Being able to start the day with clean bathrooms, a clean kitchen, sanitized restaurant, and happy employees is essential to staying afloat during these challenging times.
At MC Janitorial, we are a trusted commercial janitorial company in Lenexa. Whether you have a restaurant, medical office, retail store, or other office, we have you covered. We raise the bar on cleanliness and provide a maximum clean so that you can keep your restaurant healthy, fully staffed, and functioning despite a rise in illnesses.
Give us a call today at (913) 488-9211 or visit our website to fill out a form for a free quote. We look forward to giving you a hassle-free clean!