Why Hiring A Professional for Medical Office Cleaning in Olathe is a Good Idea
Working in the health field has its own set of challenges. There are many organizations that oversee cleanliness and sanitation at medical facilities. These sanitation and cleanliness standards are incredibly high and must be followed meticulously.
When running a business or organization, keeping your facility clean may not be the highest priority on your list. However, at a medical facility, cleanliness must be established as one of the highest priorities. Therefore, hiring a professional commercial janitorial company in Olathe to oversee this part of the office is strongly recommended.
At MC Janitorial, we have a few reasons why this might be the best option:
The medical standard of cleaning is much different than that of a regular office cleaning.
There are specific boxes that must be checked even to keep the doors open at a medical facility. So, as you can see, hiring a professional Olathe medical office cleaning service is essential to keeping up with medical standards.
There are also options for medical offices that treat specific conditions.
Some facilities require green cleaning services in Olathe to accommodate those who are vulnerable to harsher cleaning supplies. If you are an environmentally friendly business, you will appreciate this service as well. Cleaning an office doesn't have to mean harsh chemicals, but we can get the job done in a way that protects people and the environment.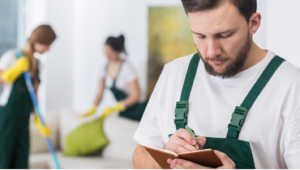 Cleaning can be done on a regular and consistent schedule.
Just like your home, things pile up at an office building or a medical facility. When you are busy doing normal business activities or providing customer service, then sanitizing and cleaning up are usually pushed back when you are pinched on time.
However, for a medical facility, cleaning services cannot be pushed back. When you hire a company like MC Janitorial for a premium medical office cleaning in Olathe, you know that things are being professionally cleaned to meet the rigorous standards of the medical industry.
A clean medical facility will make patients feel safe.
In today's medical field, people have a choice at where they go to have services done. Patients will often choose a facility that is clean and sanitized over one that seems dirty.
Most medical facilities have people coming in and out constantly, they eat in the food court, they pile up trash, and often carry illnesses that can be transferred to other people. This is why hiring an Olathe medical office cleaning company is a necessity to ensure the facility is clean and sanitized.
At MC Janitorial, we understand that medical facilities have a list of regulations to ensure a premium level of cleanliness. Our team knows this list well and will clean your facilities to these standards so you don't have to worry about any compliance issues. We offer a variety of hours for our commercial cleaning services in Olathe so that our cleaning doesn't interrupt your workday.
Give us a call today at (913) 488-9211 or visit our website to learn more about our services and sign up for a free quote. We look forward to working with you soon!