Top 7 Things for a Commercial Cleaning Service in Overland Park to Clean This Fall
Fall is a great time to do a major cleaning in your office. The weather is temperate, and you can open up windows to let some fresh air circulate. After you pack away your summer décor, it would be a good time to spend the weekend scrubbing areas of your office that accumulate dust and grime. If you are not up to the task, then you could always hire a commercial cleaning service in Overland Park to take this on.
Many businesses have a break room that includes a kitchen, and it is the spot that coworkers gather for lunch. As a leading Overland Park commercial cleaning service, MC Janitorial knows that the break room is also the spot where people spill and splash food while eating and cooking.
So when you are ready to start your fall cleaning, the kitchen is a great place to begin. Start by scrubbing those hard-to-reach areas that don't get cleaned regularly. With the help of an Overland Park commercial cleaning service, this project can be a breeze. Below are some areas you should focus on when cleaning your office's break room and kitchen.
Start By Cleaning the Oven
With the windows open, fall is the perfect time to scrub it down or use the self-cleaning mode without smoking up your office. Be sure to wipe down the inside of the hood and clean any dirty filters.
Pull the Refrigerator Away from the Wall
Scrub down the walls with soap and water, mop the floor under the fridge, and then lightly wipe off the back of the fridge with a microfiber cloth to get rid of dust. These are all areas that are not cleaned regularly and can accumulate large amounts of dirt over time.
Clean the Grout
A kitchen backsplash can quickly gather dirt, splashed food, and other grime from cooking. Give your tiles and grout a good wipe down to add a brighter look to your break room.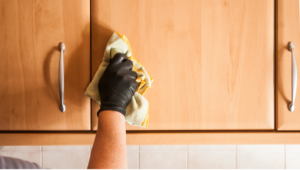 Wipe Down Your Cabinets
You would be surprised how many germs accumulate when people with dirty hands are constantly opening and shutting doors. These germs can live on your break room cabinets and door handles. With the help of a leading Overland Park office cleaning service, like MC Janitorial, we can sanitize surfaces quickly and effectively to ensure the spreading of germs is stopped.
Trash Cans
Most people don't do this often enough, but occasionally your trash cans need to be washed. Rotten food can stick to trash cans and cause sickness for your employees. Occasionally, take the trash can outside, hose it down, and give it a thorough cleaning. This will help make your break room more sanitary and smell much fresher.
Take Everything Off the Countertops
If you have granite countertops, wipe them down really well and apply a layer of sealing. This will protect the countertops it if you plan on doing any major food prep while at work. You want to use non-harsh chemicals since food touches these surfaces, and people often eat off them. This is why choosing a green cleaning service in Overland Park is so important for your regular janitorial services.
Clean Your Dishwasher
This is often the neglected appliance to clean because many people think a dishwashing cycle cleans both the dishes and the appliance. However, it is a place where old food, grime, and germs can grow.
Take off any arms and removable parts, clean filters, and give the inside a good scrub. You can also run a cycle with apple cider vinegar which is a good natural cleaner. Hiring an Overland Park green cleaning service is an excellent choice for getting your home or office clean using natural products.
At MC Janitorial, a premier commercial cleaning service in Overland Park, we know the breakroom is the hub and center where people gather. This means lots of spills, crumbs, and grime will gather over time. Giving your office break room a good fall cleaning is key to killing germs and keeping your employees healthy.
Give us a call at 913-780-0731 or visit our website to get a free quote on our service.