Tips from a Janitorial Service in Overland Park on Giving Your Office a Professional Clean
Keeping a clean office can be hard when you are working 8 hours a day at your desk. Bringing in outside materials handled by lots of people and eating at your desk are just a few things that can attract bacteria and germs in your office area. Here are a few tips to keep your workspace tidy, sanitized, and clean.
Don't Eat Lunch at Your Desk
When you eat lunch at your desk, you often leave behind food particles and crumbs that accumulate on your computer, mouse, and phone. Over time it can add up to a very dirty desk and may also attract bugs.
Tidy Up Your Desk Area
Some easy ways to keep your desk space organized are by straightening papers and filing paperwork away into drawers. This will help clear up your desk to be able to wipe it down regularly and easily.
Make Sure You Empty Your Trash Can Regularly
This can be a massive spot for bacteria to grow, especially if you throw away food or tissues. Make it a point to take your trash out at the end of each workday.
Floors are a common spot for stains, spills, dirt, etc. When you have them cleaned, you would be amazed at how fresh and clean the floors look.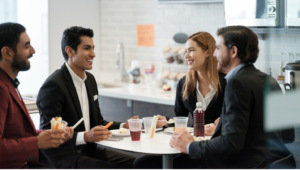 Have Your Breakroom Cleaned Regularly
According to commercial cleaning services in Overland Park, the breakroom is a hotspot for germs to accumulate. Leftover food in the refrigerator, trashcans and the sink are all spots where bacteria can add up if these areas are not cleaned regularly.
Not only do bathrooms get progressively dirty throughout the day, but it can detract customers if it's a public bathroom. Studies have shown that customers will choose a competitor if they know they always have a clean store, especially if the bathrooms are clean. It's imperative for your company morale and for returning customers that your bathrooms be well kept at all times. When you choose a janitorial service in Overland Park, like MC Janitorial, you can rest assured that all areas of your business will be well-maintained.
Clean Your Waiting Room or Front Lobby Regularly
This shows your customers that you care about and put in the time to maintain your business. How your business presents itself to customers is how many customers perceive you. Having this space cleaned is important to your business. When you hire a janitorial service in Overland Park like MC Janitorial, you can be assured that we provide the highest quality cleaning service for our customers. We even offer green cleaning services in Overland Park that are good for the environment, your customers, and your employees.
As you can see, it's important for any business to keep a clean and tidy workspace. At MC Janitorial, a premier Overland Park janitorial service, we raise the bar for cleanliness and provide you with a maximum clean. We know the importance of what having a clean office can do to customers, employees, and the success of your business.
We offer a hassle-free clean, with flexible appointments to fit any schedule. Give us a call at 913-780-0731 or visit our website to get a free quote on services for your office.