How To Pick The Right Commercial Cleaning Service in Olathe
When you start looking for an Olathe commercial cleaning service, you will notice there are quite a few options to choose from. It can be quite a challenge to make sure you choose the right cleaning service for your business. You might be hiring a new company for janitorial services in Olathe or you have had a bad experience with your current cleaners. Whatever your reason, MC Janitorial has some great ideas for making sure that you hire the right company to leave your office squeaky clean.
So, what are some essential details to look for in a commercial cleaning service in Olathe?
Check Their Reviews Online
Online reviews are a great place to start because it's feedback from real clients past and present. It will give you information on the quality of customer service, cleaning, and many other important topics when it comes to doing business with a new cleaning company.
There is a big difference in what some companies consider clean, so it is important to take a thorough look on what services they provide. For instance, some companies just skim through the area quickly to make the room look clean, but they are not disinfecting surfaces that could have bacteria, gems, or dust.
There are also options, including Olathe green cleaning services, disinfectant fogging, medical clean-up, and more. There are also safe cleaning products for people and the environment. If you work with a sensitive population or want to help cut back on your carbon footprint make sure you look for a cleaning service that offers this option.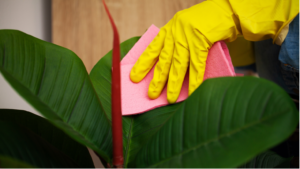 Check Into Their Safety Practices
Many cleaning companies hire subcontractors to do the work. This is a red flag for being able to truly know who you will be working with and if they are trustworthy. At MC Janitorial, our cleaners are all vetted and trained to make sure the standard of cleaning is top-notch. We also make sure our employees are safe and reliable. As a company that has been around for 35 years, our seasoned pros will deliver a clean that doesn't just look clean but truly is clean.
Make Sure They Offer Flexible Scheduling
If you often have many clients in and out of your office, cleaning during the workday will interfere with your business. Look for a company that has the flexibility to be able clean around your business hours. Also, your place of work might require a specialized clean like a disinfectant fogging to kill germs. Make sure your cleaning service offers any special cleaning services you might need.
At MC Janitorial, we offer high-quality Olathe janitorial services and it is our goal to keep your office or retail space healthy and germ-free. We provide a variety of services, including green cleaning services in Olathe, to keep your employees safe naturally.
Call us today at (913) 488-9211 or visit our website to fill out a contact form for a free quote. We look forward to showing you how our services can benefit your company today!