MC Janitorial Services in Overland Park: What Should Be On Your Business's Fall Cleaning Checklist?
The arrival of fall signifies more than just the changing of the leaves and the approach of the holiday season. It's an ideal time to prepare your Overland Park business for the coming months. Start by undertaking a thorough and strategic fall cleaning regimen.
As one of the top janitorial services in Overland Park, MC Janitorial knows that a well-planned fall cleaning checklist is very important. Fall cleaning can help you maintain a clean, healthy, and welcoming environment for everyone. This includes your valuable employees, customers, and guests.
In this blog, we will outline the essential tasks to include on your Overland Park business's fall cleaning checklist. By following this guide, your workplace will be in optimal condition for the fall and winter seasons.
With the increase in foot traffic during the fall, your carpets and upholstery are bound to accumulate dirt and stains. Deep cleaning carpets and upholstery greatly improves the appearance of your workspace.
An added bonus – clean carpets also enhance indoor air quality. Professional cleaning services can help remove harmful allergens from your work area. A deep cleaning can also remove dust mites and built-up grime from surfaces. MC Janitorial's professional cleaning services will be sure to make your environment more comfortable and inviting.
Floor Maintenance
Fall is the ideal time for a comprehensive floor maintenance program, according to some of the top janitorial services in Overland Park. This includes stripping and waxing hard floors and performing thorough cleaning and maintenance on carpeted areas. The goal is to eliminate dirt, grime, and salt that can be tracked in from the outdoors, restoring the shine and luster to your floors.
As leaves fall and precipitation becomes more common in Overland Park, the windows of your business can quickly become dirty. Clean windows can greatly improve the appearance of your Overland Park workspace. They also allow more natural light to enter, making your environment more pleasant and energy efficient.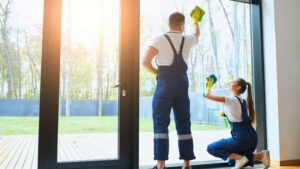 Fall is the perfect time to ensure that your HVAC system in Overland Park is working order. This starts by making sure it is clean! The HVAC plays a critical role in effectively heating and cooling your workspace. A clean HVAC system helps maintain indoor air quality but also ensures that your system operates efficiently throughout the cooler months.
Regular dusting and disinfection are essential year-round for your Overland Park business. However, it's especially important during the fall and winter seasons in Overland Park when cold and flu viruses are more prevalent. High-touch surfaces, such as doorknobs, light switches, and communal areas, should be disinfected regularly. This reduces the risk of illness among your staff and customers.
Clean and Organize Storage Areas
Fall is the ideal time to declutter and organize storage areas, such as supply closets, filing cabinets, and break rooms. Remove any unnecessary items, restock supplies, and reorganize storage areas to ensure a clean and efficient workspace.
Pest Control
As temperatures drop, pests seek shelter and food sources indoors. Implement a pest control plan to prevent infestations and protect your business from damage and health hazards.
Clean and Maintain Exterior Areas
Don't forget about the exterior of your business. Fall is an excellent time for professional Overland Park janitorial services to maintain outdoor areas. This includes parking lots, walkways, and building exteriors. Power washing and clearing debris from gutters can help prevent water damage and maintain curb appeal.
Restrooms require special attention in your fall cleaning checklist. Regularly clean and disinfect restrooms to maintain a clean and hygienic environment for employees and guests. Pay attention to details such as toilet bowls, sinks, and door handles.
Replace Air Filters
Dirty air filters can reduce indoor air quality and HVAC system efficiency. Replace air filters as part of your fall maintenance routine to ensure fresh, clean air for your workspace. As one of the top commercial property cleaning services in Overland Park, we know first-hand the importance of a clean air filter.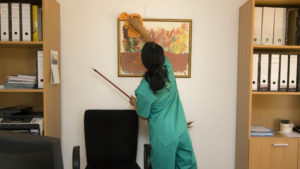 With environmental concerns and health considerations becoming more prominent, consider evaluating your cleaning products. Choose eco-friendly and low-toxicity cleaning solutions that are both effective and safe for your employees and visitors.
Assess and Train Staff
Fall is an ideal time to assess your cleaning staff's performance and provide training as needed. Make sure that your cleaning team is up to date on the latest cleaning techniques and safety protocols. If you don't have a cleaning staff on site, consider hiring professional Overland Park janitorial services.
Prepare for Inclement Weather
Fall often brings unpredictable weather, including rain and snow. Ensure you have the necessary supplies and equipment, such as salt or sand for icy walkways and mats to prevent slips and falls.
Schedule Regular Maintenance
Fall cleaning isn't a one-time event; it's part of a comprehensive cleaning and maintenance plan. Develop a schedule for regular maintenance tasks throughout the season, ensuring that your Overland Park workspace remains clean and inviting.
Many of the tasks on your fall cleaning checklist can be handled by your in-house cleaning team. However, there are several advantages to enlisting the services of professional janitorial services in Overland Park. They have the expertise, equipment, and experience to perform deep cleaning tasks efficiently and thoroughly. By outsourcing cleaning to professionals, you can focus on your core business activities while enjoying a consistently clean and well-maintained workspace.
As one of the top janitorial services in Overland Park, MC Janitorial knows that a well-organized and thorough fall cleaning checklist is essential. This is especially true if your business is looking to maintain an inviting workspace throughout the fall and winter. By addressing tasks such as deep cleaning carpets and upholstery, floor maintenance, window cleaning, HVAC system maintenance, and more, you can create a pleasant environment for employees and customers alike.
Remember that regular maintenance, proper training, and the use of professional Overland Park janitorial services can significantly contribute to the success of your fall cleaning efforts. A clean and well-maintained workspace not only enhances the overall impression of your business but also promotes the well-being and productivity of everyone who enters your doors. So, embrace the fall season and get your workspace in top shape with a comprehensive fall cleaning checklist.

At MC Janitorial, we are one of the top Overland Park commercial cleaning services and we strive to keep your retail and office spaces healthy and germ-free. We have a variety of cleaning options, including green cleaning services in Overland Park to keep your employees safe naturally. We also offer flexible scheduling to accommodate your Overland Park business.
Call MC Janitorial today at (913) 488-9211. You can also visit our website to fill out a contact form for a free quote. We look forward to showing you how our services can benefit your company today!