How Do You Know If Your Workplace is Really Clean?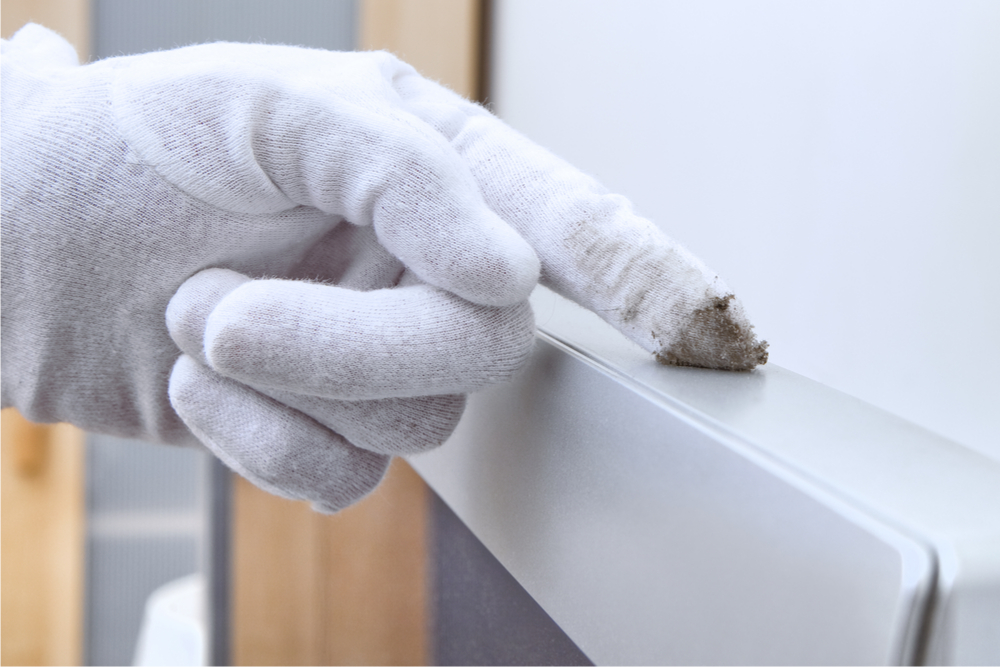 Offices must always be in clean and pristine condition, especially if some of the areas are open to the public. Clean work environments leave a good impression on clients and visitors. They give the office a professional look, make the office safer, and boost the comfort of everyone on the premises.
Commercial Office Cleaning: Determining if the Job is Done Right
Business owners need to make sure that their office stays tidy at all times. They can monitor the overall cleanliness of the workplace by regularly inspecting the following areas:
The Front Door
This is the first thing that employees and visitors see when they enter the building. When examining the main entrance of your workplace, check the handle for signs of dirt and the glass for any smears or fingerprints.
The Reception Area
The next place that you should inspect is your office's reception area. Check out the condition of the soft furnishings and make sure there is no staining or debri on carpeted areas.
The Communal/Breakroom Area
This area tends to become dirty quickly, as employees and even visitors regularly use it throughout the day. Maintaining the cleanliness of the communal area, therefore, is important for the benefit of the occupants. When checking the general condition of this space, check if the cleaning staff has emptied the trashcans, kept the floor free from grime, and effectively wiped down countertops. Germs love to live in these spaces so ask about your cleaning crew's methods of sanitation.
Workspaces
Employees use their workstations for long periods of time, so it's natural for these cubicles and desks to become a little grimey. During the inspection, check the computers for dust and grime. Seeing dirt frequently is an indication that regular cleaning isn't happening in this part of the office.
Signs Your Office Cleaning Staff Aren't Getting the Job Done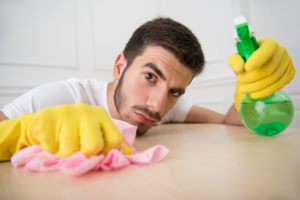 If the cleanliness of your workplace is less than stellar, your cleaning crew may not be delivering the quality work they promised when you hired them. You might need to consider replacing them if they show any of the following signs:
Not bringing the proper cleaning products – Your cleaners should always be carrying the equipment and supplies necessary to get the job done effectively and efficiently. If they're unable to finish all of the required tasks due to the lack of tools, they're not adequately fulfilling their cleaning obligations.
They are in a hurry– Cleaning crews should be efficient when they're on the job. Speed, however doesn't mean clean . They should take their time when cleaning the areas in your workplace to ensure everything is completely clean and sanitized. If you find them coming in and out of your office too quickly, they may not be spending enough time to meet the quality cleaning standards you established and often not giving cleaning products the time they need to sit and to do their job.
Certain areas still look dirty after cleaning – Your service provider is not doing an excellent job if the garbage cans remain full, the desks are still dusty, and the break room area remains a mess. If these issues are showing up often, contact the cleaning company and ask for an explanation. It's either you need to raise the frequency of cleaning visits or the cleaners are not fulfilling the job requirements stated in the contract.
You notice damaged, or missing items – Damage and theft to personal belongings and company property unfortunately can happen. You should seriously look into switching to another cleaning service provider if you start noticing broken or missing stuff from your office.
Qualities that Make a Great Commercial Cleaning Provider
If you're thinking of replacing your cleaning service provider, you need a commercial office cleaning company that exceeds your expectations and are a cut above other firms. When searching for a great cleaning company, look for the following qualities:
Consistent – The commercial cleaning company should be able to perform quality work every time they're in your office. The result must always be the same regardless of which staff is in your building.
Thorough – We know that there is a difference between appearing clean and being clean and believe that every cleaning company should hold that same value and be able to prove that they thoroughly and effectively cleaned your workplace. We use our MC Lights to inspect our work to ensure we are delivering on our promise – and when asked, we can inspect our competitors' work, too. This gurantees that your space doesn't just look clean, but is clean.
Reputable – The cleaning company you choose must be able to provide references from satisfied customers. On top of that, check the review sites on the web, such as Yelp and Google. This makes it easy to find out who is saying what about the company you're thinking of hiring.
Organized – When you meet a prospective cleaning company for the first time, they should appear organized both in their demeanor, as well as in the items they use in their presentation. You'll know you're bringing on an organized cleaning service provider when they can take care of some clients each day and keep track of each business' specific needs seamlessly.
Insured and Bonded – Accidents happen no matter how careful you are in vetting your cleaning crew. Excellent service providers will be able to provide you with proof of general liability insurance that covers these unfortunate incidents. Other companies even have additional insurance policies that boost their coverage in case of an accident or theft.
Make Us Your Commercial Cleaning Service Provider
The good news is you don't have search far for an excellent commercial cleaning company in Kansas City. MC Janitorial, LLC delivers outstanding janitorial services for offices and industrial facilities. We customize our services to the unique requests or needs of our customers. Since every client has varying needs, we offer each customer with a comprehensive list of our service specifications. This way, our customers know what to expect from our services.
What gives us an edge over other companies is that we are a certified green and Occupational Safety and Health Administration (OSHA) cleaner. We're also a member of the Building Service Contractors Association International (BSCAI). You can trust us to do a job well done, as we have an A+ rating with the Better Business Bureau (BBB).
When you choose us as your cleaning service provider, we meet your expectations by making your facility and work environment healthier and cleaner than before. Rest assured you'll get a hassle-free and excellent janitorial experience from us.
Get in touch with us today to get a free cleaning quote.