Commercial Cleaning Services in Olathe: 8 Dirty Jobs That Will Keep Your Business Immaculate
Commercial Cleaning Services in Olathe: 8 Dirty Jobs That Will Keep Your Business Immaculate — Maintaining a clean and hygienic workspace is crucial for any business. A tidy environment not only creates a positive impression but also ensures the well-being of employees and customers. MC Janitorial understands the significance of cleanliness.
As one of the top commercial cleaning services in Olathe, we're here to tackle the dirtiest jobs so you can focus on your core business activities. In this blog, we'll highlight eight cleaning tasks that our commercial cleaning company excels at, ensuring your business remains spick and span.
Carpets can harbor dust, dirt, and allergens that regular vacuuming can't remove. MC Janitorial employs state-of-the-art equipment and eco-friendly cleaning agents to provide deep carpet cleaning services. We are widely considered one of the best Olathe commercial cleaning services because of our highly trained technicians. Our staff meticulously inspect and pre-treat stains, ensuring that even the most stubborn blemishes are lifted.
We then use hot water extraction to deep-clean the carpet fibers, removing ingrained dirt and allergens. This process not only revitalizes your carpets but also improves indoor air quality, creating a healthier and more inviting workspace for your employees and visitors.
Maintaining a clean restroom is vital for both employee morale and customer satisfaction. Our cleaning team pays special attention to restroom sanitization, disinfecting surfaces, replenishing supplies, and eliminating odors to create a pleasant and hygienic environment.
We use hospital-grade disinfectants and follow strict protocols to ensure every surface, from sinks and toilets to doorknobs and light switches, is thoroughly sanitized. Our commitment to cleanliness extends to regular maintenance, ensuring your restrooms remain pristine and odor-free throughout the day.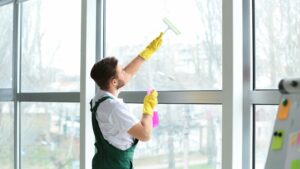 Sparkling clean windows not only enhance the appearance of your business but also allow more natural light in, creating a brighter and more welcoming atmosphere. MC Janitorial utilizes industry-best practices to clean windows. Our trained technicians carefully remove dirt, streaks, and smudges, paying attention to detail to provide a clear view of the world outside.
We understand that first impressions count, and clean windows contribute to a positive image for your business. Whether you have large storefront windows or multistory office building glass, our Olathe commercial cleaning services will provide the expertise and equipment to keep them spotless year-round.
High-traffic areas in your business can quickly lose their shine, and worn-out floors not only look unprofessional but can also become a safety hazard. Our janitorial services in Olathe include floor stripping and waxing services rejuvenate your floors, ensuring they remain durable and aesthetically pleasing.
We start by stripping away old layers of wax, removing built-up grime, and repairing any damaged areas. After a thorough cleaning, we apply a fresh coat of high-quality wax, bringing out the natural luster of your floors. This process not only improves the appearance of your space but also prolongs the life of your flooring investment, saving you money in the long run.
Maintaining a clean and hygienic kitchen or breakroom is essential for employee health and satisfaction. MC Janitorial takes this responsibility seriously, using top-quality cleaning agents and techniques to ensure your kitchen and breakroom spaces remain spotless. Our experienced team scrubs countertops, sanitizes appliances, and ensures that no crumbs or spills are left behind.
We pay particular attention to refrigerator interiors, microwave ovens, coffee makers, and other frequently used equipment, eliminating germs and preventing cross-contamination. As one of the premier Olathe commercial cleaning services, we also keep a close eye on the inventory of cleaning supplies.
Our staff ensures that hand soap, paper towels, and other essentials are always stocked, so your employees can enjoy a clean and convenient break area.
Dust accumulation not only mars the appearance of your business but can also exacerbate allergies and respiratory issues, affecting the health and productivity of your employees. MC Janitorial specializes in meticulous dusting, including those hard-to-reach high places that often get overlooked.
Our team uses microfiber cloths and HEPA-filtered vacuums to capture dust effectively, preventing it from becoming airborne and settling back onto surfaces.
We pay attention to detail, ensuring that every surface, from shelves and fixtures to ceiling fans and light fixtures, is dust-free. Our commitment to thorough dusting promotes a healthier and more pleasant work environment, reducing allergy symptoms and helping maintain a professional image for your business.
Proper trash removal is a daily essential for any business, and MC Janitorial takes this responsibility seriously. Our experienced cleaning staff ensures that your waste bins are regularly emptied, and liners are replaced as needed. We also make it a point to sort and dispose of trash appropriately, adhering to local regulations and environmental guidelines.
Our meticulous trash removal services extend to common areas, conference rooms, and outdoor spaces, ensuring that your business remains free of unsightly waste and unpleasant odors. We are one of the most respected Olathe commercial cleaning services, so we understand that cleanliness is not just about appearances.
It's also about creating a safe and pleasant environment for your employees and customers.
The quality of indoor air can significantly impact the health and comfort of your employees and customers. MC Janitorial offers specialized HVAC and air duct cleaning services to remove dust, allergens, and pollutants from your ventilation system. Over time, air ducts can accumulate dust, mold, and other contaminants, which can then circulate throughout your business.
Our trained technicians use powerful equipment to clean and sanitize air ducts thoroughly. We also inspect and clean HVAC components, such as coils and filters, to ensure optimal air quality and energy efficiency. By investing in regular HVAC and air duct cleaning, you can create a cleaner and healthier environment for all who enter your business, reducing allergens and improving overall comfort.
Discover the MC Difference Today!
MC Janitorial is your trusted partner for commercial cleaning services in Olathe and tackling the dirtiest jobs to maintain a pristine business environment. From deep carpet cleaning to HVAC and air duct cleaning, we go above and beyond to ensure your workplace remains clean, hygienic, and inviting.
Contact us today to experience the transformative power of professional commercial cleaning. Your business deserves nothing less than the best. Let us handle the dirty work while you focus on what you do best.

At MC Janitorial, we are one of the top Olathe commercial cleaning services and we strive to keep your retail and office spaces healthy and germ-free. We have a variety of cleaning options, including green cleaning services in Olathe to keep your employees safe naturally. We also offer flexible scheduling to accommodate your business.
Call us today at (913) 488-9211 or visit our website to fill out a contact form for a free quote. We look forward to showing you how our Olathe janitorial services can benefit your company today!