5 Amazing Tips from Janitorial Services in Overland Park to Boost Workplace Productivity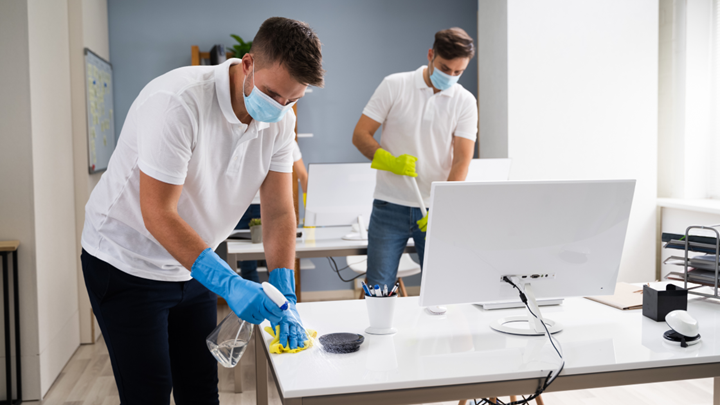 5 Tips from Janitorial Services in Overland Park to Boost Workplace Productivity — There is this old proverb that says, "your space reflects your mind". A clean workspace means your mind is focused on the task at hand and not wandering. A messy office can leave you distracted from tasks and keep you from focusing on your goals. As one of the top janitorial services in Overland Park, MC Janitorial knows this scenario could negatively impact your business.
The size of your business does not really matter, the clutter does. MC Janitorial will clean up your space no matter the size. It is very beneficial to have a clean and organized work environment for your staff. This will improve productivity and boost morale in your office. Here are five tips to keep those creative juices flowing from your friends at one of the top janitorial services in Overland Park:
Working on a dirty desk lowers morale. It also makes your team sick, thereby reducing office productivity due to high rate of absenteeism. Make sure that you encourage dusting your work areas each evening and wipe those surfaces once a week.
Don't wait for a full trash to empty it. No one wants to have bacteria build up. Overland Park janitorial services recommend dumping those trashes nightly.
A shiny floor is an inviting floor that screams clean. Keep your floor sparkling with that positive first impression.
Phones have germs. Phones can be a source of contagion to your staff if not disinfected every day. Safeguard your phones every day at the office with anti-bacterial wipes to make them germ-free and lessen the chances of cross-contamination. A healthy staff is a producing staff.
Carpets and floors can give off a smell. The bad smell also distracts your employees from their primary jobs. Make sure your carpets are cleaned thoroughly recommends janitorial services in Overland Park. Introduce orange and lavender scents into your environment. It increases office production.
Clean offices improve productivity and morale of staff. MC Janitorial is a professional cleaning service that provides excellent service at affordable rates. Contact us today for additional information.
SUPERIOR JANITORIAL SERVICES FOR COMMERCIAL CLIENTS IN KANSAS AND MISSOURI
CERTIFIED PROVIDER OF CLEANER AND HEALTHIER WORKSPACES THROUGH THE KANSAS CITY AREA
NO LONG TERM CONTRACTS
At MC Janitorial, we are a commercial cleaning service in Overland Park that also offers premium office cleaning services in Overland Park. It is our job to keep your business healthy and germ-free. We have a variety of cleaning options, including green cleaning services in Overland Park to keep your employees safe naturally. We also offer flexible scheduling to accommodate your hours of operation.
Call us today at (913) 488-9211 or visit our website to fill out a contact form for a free quote. We look forward to showing you how our services can benefit your company today!