Janitorial Services in Overland Park 101: Understanding the Basics of Professional Cleaning
Janitorial Services in Overland Park 101: Understanding the Basics of Professional Cleaning–When it comes to the cleanliness and maintenance of commercial space, janitorial services are a must. But what exactly are janitorial services, and how do they work? In this blog, we'll take a closer look at the basics of professional cleaning, including the types of services available and the benefits they provide. If you're looking for janitorial services in Overland Park, or considering green cleaning services in Overland Park, read on!
What are Janitorial Services?
Janitorial services in Overland Park are a collection of professional cleaning services designed to keep commercial spaces clean, organized, and healthy. This type of service is typically performed by trained professionals who use specialized equipment and techniques to achieve high levels of cleanliness and efficiency.

Types of Janitorial Services
There are a variety of janitorial services in Overland Park available to meet the unique needs of commercial spaces. Some of the most common services include:
Sweeping and mopping floors
Vacuuming carpets and upholstery
Dusting and polishing furniture
Cleaning and disinfecting bathrooms
Emptying trash and recycling bins
Refilling soap and paper products
Cleaning windows and mirrors
Depending on the needs of your business, you may choose to customize your janitorial services package to include additional services or to focus on specific areas of your space.

The benefits of a commercial cleaning service in Overland Park go far beyond simply having a clean space. Here are just a few of the key advantages:
Increased productivity: A clean and organized space allows employees to focus on their work without distractions or obstacles.
Improved health and safety: Regular cleaning and disinfection help to reduce the spread of illness and prevent accidents and injuries caused by clutter and debris.
Enhanced appearance: A clean and well-maintained space creates a positive impression for clients, customers, and visitors.
Cost savings: Regular maintenance and green cleaning services in Overland Park can help to prolong the lifespan of your facility and equipment, reducing the need for costly repairs and replacements.
If you're looking for an eco-friendly option for your janitorial services, consider green cleaning services in Overland Park. These services use environmentally friendly cleaning products and techniques to reduce the impact on the planet and promote health and safety for everyone in the space. From non-toxic cleaning solutions to energy-efficient equipment, green cleaning services are an excellent way to promote sustainability and responsibility in your business.

When it comes to selecting janitorial services, it's important to choose a provider that meets your specific needs. Consider factors such as the size and type of your facility, your budget, and the types of services you require. Some janitorial services specialize in specific industries or types of spaces, so be sure to ask about their experience and expertise.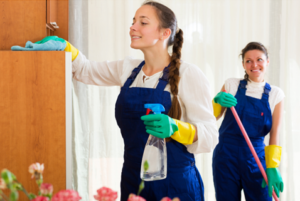 The Importance of Professionalism
Professionalism is a key factor in selecting a janitorial services in Overland Park provider. Look for a company that is licensed, insured, and has a strong reputation for quality service. The individuals providing the cleaning services should be background-checked and well-trained in the latest cleaning techniques and equipment. A professional janitorial services provider will offer a contract that outlines their services, pricing, and any guarantees or warranties.
Outsourcing janitorial services can offer significant benefits for businesses. For one, it frees up time and resources that can be devoted to other aspects of the business. Additionally, it provides access to professional cleaning services that are often more efficient and effective than in-house cleaning. Overland Park commercial cleaning service also provides flexibility in terms of scheduling and can help to reduce labor costs.

Maintaining a Clean and Healthy Workplace
Janitorial services in Overland Park play an important role in maintaining a clean and healthy workplace. However, there are also several steps that businesses can take to promote cleanliness on a daily basis. Encourage employees to clean up after themselves, provide easy access to cleaning supplies such as wipes and hand sanitizer, and establish protocols for regular cleaning and disinfection of high-touch surfaces. By working together with your janitorial services provider, you can help to create a clean and healthy workplace for everyone.
Conclusion
Overland Park janitorial services are an essential component of maintaining a clean, healthy, and productive commercial space. Whether you need basic cleaning services or a customized package to meet your specific needs, there are janitorial services available in Overland Park to help. And if you're looking for a sustainable option that promotes better health and safety, green cleaning services may be the perfect choice for you. Contact a professional cleaning service in Overland Park today to learn more!
Regular office cleanings ensure you never have to deal with any unsightly visitors.
Are You Ready to Hire MC Janitorial?
SUPERIOR JANITORIAL SERVICES FOR COMMERCIAL CLIENTS IN KANSAS AND MISSOURI
CERTIFIED PROVIDER OF CLEANER AND HEALTHIER WORKSPACES THROUGH THE KANSAS CITY AREA
NO LONG-TERM CONTRACTS.

At MC Janitorial, we are one of the top Overland Park commercial cleaning services and we strive to keep your retail and office spaces healthy and germ-free. We have a variety of cleaning options, including green cleaning services in Overland Park, to keep your employees safe naturally. We also offer flexible scheduling to accommodate your business.
Olathe, Johnson County, The Northland, Lawrence, and Lee's Summit are just some of the locations our Overland Park commercial cleaning company services. For our commercial, office, industrial, warehouse, medical, educational, and retail customers, our commercial janitorial company in Overland Park offers a full range of janitorial services, as well as building maintenance, supplies, and post-construction cleanup.
MC Janitorial is a Kansas, Missouri, and KCMO SLBE/WBE, "Green," and OSHA Outreach Certified Woman-Owned Cleaning Company. We're part of the Chamber of Commerce and the Building Service Contractors Association International, and we have a "A+" rating from the Better Business Bureau. (BSCAI). Our office cleaning company in Overland Park also offers flexible scheduling to accommodate your business. Call us today at (913) 488-9211 or visit our website to fill out a contact form for a free quote. We look forward to showing you how our services can benefit your company today!