Chemicals to Be Aware of in Your Household Cleaning Products
Many of us are typically not too concerned with our own safety when it comes to the different products that Lenexa janitorial services use. However, there are different chemicals in your everyday household cleaning products that you may want to be careful when using, so you can keep your household safe.
As one of the leading commercial cleaning services in Lenexa, MC Janitorial has compiled a list of the riskiest chemicals found in household cleaning products. As a rule of thumb, you should always check the labels of all products before you purchase them, so you are aware of potentially dangerous chemicals, like:
Ammonia
Formaldehyde
Chlorine
Sodium Hydroxide
2-Butoxyethanol
Ammonia
Primarily used as a glass cleaner that leaves a streak-free shine, ammonia can also cause rashes or other skin irritations. According to Lenexa medical office cleaning companies, if you suffer from lung issues, you should steer clear of close contact with ammonia since it can cause lung discomfort.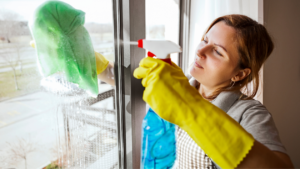 Formaldehyde
Lenexa commercial cleaning services know that formaldehyde is common in heavy-duty cleansers. In the most severe cases, it has been linked to ALS, which can hamper and deteriorate the brain's ability to have any control over the body.
Chlorine
Many of us know that chlorine is most commonly used to clean swimming pool water and can cause red eyes if you are not wearing goggles in the pool. However, chlorine is also used by many Lenexa janitorial services in items like laundry whiteners, scouring powder, toilet cleaners, and mildew removers. Experts suggest avoiding prolonged exposure to chlorine as it can cause thyroid issues, chronic dryness, and skin irritations.

Sodium Hydroxide
Ovens require heavy-duty cleaning products to be removed cooked on grease and grime that has built up over time. A common chemical found in most oven cleaners used by janitorial services in Lenexa is sodium hydroxide. Even with minimal contact, sodium hydroxide can irritate sensitive skin since it is so potent. Some have reported having a sore throat for days after contact with sodium hydroxide.
2-Butoxyethanol
A common ingredient for window cleaners and multi-use sprays is 2-Butoxyethanol. Although it has a sweet and flowery scent, excess exposure to this chemical can lead to liver or kidney issues. Many Lenexa office cleaning services will provide masks for their employees to lessen any potential effects of chemicals like 2-Butoxyethanol.

If you are looking for a high-quality commercial cleaning service in Lenexa for your office, give MC Janitorial a call at (913) 780-0731 or contact us online today.