10 Smart Tips for Finding the Perfect Janitorial Services in Olathe 🧹

10 Smart Tips for Finding the Perfect Janitorial Services in Olathe 🧹–Finding the perfect janitorial services in Olathe can be a challenge. There are many things to consider such as certified credentials, customer reviews, and special offers. On top of that, there may be added pressure to keep costs low while still ensuring that you get the best quality service. Luckily, with a bit of research and due diligence, you can select the ideal janitorial service that meets all expectations! With these 10 smart tips for finding the perfect janitorial services in Olathe, you can rest assured that you have made an informed decision and will get quality services at an affordable price.

Do Your Research 🔎
Before selecting a janitorial service, it is important to do some research on the type of services that are available in your area and what kind of reputation individual companies have. Thoroughly researching janitorial companies in Olathe will ensure that you find the best fit for your needs.
Ask for Referrals 👥
Asking trusted friends and colleagues for referrals is a great way to find out which local janitorial services they may have used themselves or recommend to others. This is also an opportunity to get first-hand feedback on their experience with the company so that they can make an informed choice.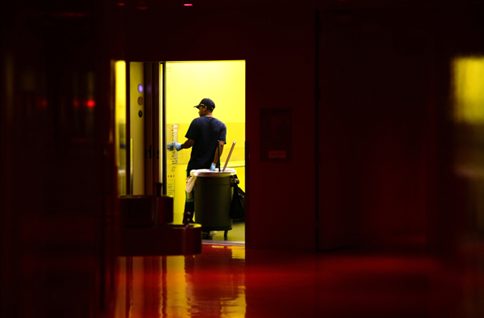 Check Credentials 📜
Choosing a reputable and certified janitorial service in Olathe should be mandatory. Ensure that they have valid certifications and licenses, as well as insurance for any potential accidents that could occur during cleaning operations.

Read Reviews 🗨️
Reading customer reviews online is another great way to get insight into the quality of work offered by different janitorial companies in Olathe. You can learn about how dependable each potential candidate is, their level of expertise, and whether or not customers were happy with their performance overall.
Take Notes 📝
Making notes while researching different janitorial services in Olathe will help you keep track of what each company offers and compare them against your requirements faster without having to start from scratch each time you read through materials related to them. You'll also be able to make quick decisions when making comparisons between different options easier this way!

Compare Prices 💲
Once you've narrowed down your choices, comparing prices is essential if you want to ensure that you are getting the right value when hiring janitorial services in Olathe. Don't just look at initial prices – consider long-term costs such as recurring expenses like maintenance fees too!
Have An Initial Consultation 😊
The best way to get a feel for how reliable and knowledgeable a particular company may be before engaging in their services is by arranging an initial consultation with them beforehand. This will give both parties an opportunity to explore each other's expectations prior to agreeing on any contracts or arrangements between both parties.
Analyze Client Testimonials ✅
Taking some time to read through client testimonials and recommendations from past customers who have used the same Olathe janitorial services before can offer invaluable insights into how satisfied previous customers were with the company. This will give you clues regarding customer support, professionalism among staff members, availability, and more!

Look Out For Special Offers ❤️
Keep an eye out for special offers or discounts when shopping around for janitorial services in Olathe. These could potentially save money while providing excellent value at the same time! Don't hesitate to ask around or search online if there are any available deals – it might pay off handsomely!
Ask Questions 😃
If there are any queries concerning specific aspects of hiring an Olathe janitorial service or anything related that hasn't been addressed thus far – never hesitate to ask questions! It's important (and totally okay) to take your time gathering all the information necessary that will ensure you are comfortable before signing up. Communicate openly with representatives throughout every step until all doubts/concerns have been resolved. 😊
When deciding on janitorial services in Olathe, it is vital to perform diligent research beforehand so that you choose the right one to suit your needs and budget. By following the 10 tips outlined above, you'll be sure to find the perfect janitorial service provider who will deliver exceptional services.
Don't forget to ask questions along the way so that all doubts are cleared prior to signing any contracts or arrangements – this will ensure maximum satisfaction knowing all expectations were taken into consideration during the selection process resulting in finding a just-right fit ultimately!
Looking to hire MC Janitorial for your school or district?
Call us today for a free consultation.
SUPERIOR JANITORIAL SERVICES FOR COMMERCIAL CLIENTS IN KANSAS AND MISSOURI
CERTIFIED PROVIDER OF CLEANER AND HEALTHIER WORKSPACES THROUGH THE KANSAS CITY AREA
NO LONG-TERM CONTRACTS
At MC Janitorial, we provide premium office commercial cleaning services and strive to keep your retail space healthy and germ-free. We have a variety of cleaning options, including green cleaning services in Olathe to keep your employees safe naturally. We also offer flexible scheduling to accommodate your business.

Call us today at (913) 488-9211 or visit our website to fill out a contact form for a free quote. We look forward to showing you how our services can benefit your company today!