Why Choose Professional Office Cleaning Services
Most companies are focused on their area of trade or business and do not take the time to properly clean their offices without the help of Lenexa commercial cleaning services. This can result in loss of productivity of employees and loss of customers, due to being turned off by a dirty office. At MC Janitorial, the best commercial cleaning service in Overland Park, we can deep clean your offices, leaving a pleasant environment to work and do business. We have provided a list of reasons why choosing a commercial cleaning service in Lenexa will actually save you money.
Customers will choose an office or business that is clean and comfortable over a smelly or messy one any day. Having clean restrooms and counters has proven over time, customers will pick a business based on cleanliness. By choosing a professional Lenexa office cleaning service, you are choosing to increase the comfortability of your customers.
Hiring a commercial cleaning service will actually save you money. By the time you purchase all the necessary cleaning products and supplies, add up the cost of labor, you can count on the fact that it would have been less cost just to hire a professional commercial cleaning service in Lenexa.
Reduced Risks and Accidents
Cleaning a large office environment effectively takes a great deal of bending and climbing in order to do the task. Cleaning yourself or relying on office staff poses some risk for your business as it can cause injury to people who are not properly trained for the task of commercial cleaning.
People that are not familiar with particular products or surfaces can easily use the wrong cleaner and ruin valuable property owned by the business. When hiring a commercial cleaning service in Lenexa, you are hiring professionals that are very familiar with the different products and where to appropriately use them.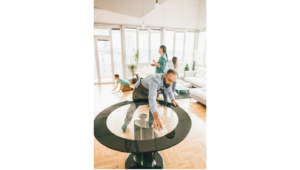 Lenexa office cleaning service, MC Janitorial, can give you back some time to focus on your business. We are professional cleaners and can do office cleaning efficiently and seamlessly, giving you more time to focus on your business at hand.
Employees' studies show that if employees feel comfortable and safe in an environment, their productivity goes up. Not only does a good commercial cleaning service in Lenexa remove obvious dirt and grime, but it removes bacteria and viruses and live on surfaces that can get spread around an office easily. By cleaning regularly, you are cutting back on valuable sick leaves from your employees as well as protecting them.
By hiring the best Lenexa commercial cleaning service, MC Janitorial, you will get a spotless clean guaranteed. MC Janitorial will make your work environment healthier for both your employees and customers while saving you money. Call us today at 913-780-0731 or contact us online to get a free quote!