Popular Reasons to Have an Olathe Commercial Cleaning Service Clean Your Office Professionally
Most people think about cleaning and organizing their homes or offices at the start of the new year. It is a great time to focus on getting rid of clutter and outdated items so you can start fresh with a clean and organized space. This can help you prepare for everything the new year throws your way.
Besides just loving the look and feel of an organized and cleaned space, there are also some health benefits involved when you have a cleaning service, or better yet, Olathe green cleaning services. When you have Olathe green cleaning services, you can rest assured that our clean is environmentally safe and healthier for employees or your family. Here are the top reasons for hiring an Olathe commercial cleaning service:
If you have anyone in your office or home that struggles with disease, illnesses, asthma, or they are immuno-compromised, then utilizing green cleaning services is a great choice. A green clean gives you all the benefits of a regular clean with but with less reaction from compromised individuals, so you are keeping everyone safe and feeling good about your environmental footprint at the same time.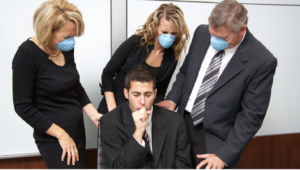 It only takes one person carrying a germ to spread it throughout the office, causing an influx of sick time for employees. When employees are collaborating and using the same shared spaces such as bathrooms and break rooms, you can be assured that during a pandemic or flu season, that sickness will spread quickly. Having your office cleaned and sanitized regularly will help prevent your staff from becoming ill.
A Professional Clean Will Protect and Preserve Your Assets
If you have office furniture, office equipment, carpet, or flooring, you know that these items are expensive to repair or replace. When you don't hire a professional cleaning service, you run the risk of using the wrong product, which can cause damage.
If equipment like computers and copy machines are damaged it can be costly. Additionally, when you have your flooring and carpets cleaned regularly, you can significantly extend their lifespan. Regular cleaning services will also freshen your office space by reducing odors that are hard to remove and brighten the space tremendously for your employees and customers.
At MC Janitorial, we offer both traditional cleaning services and green cleaning services so that our customers have different options to fit their needs. Our services include medical office cleaning in Olathe, restaurant cleaning, construction clean-up, and even building maintenance!
Our promise, no matter what environment, is to deliver a cleaner and healthier work environment along with the most responsive and hassle-free janitorial service you've ever experienced. We offer free quotes, so don't hesitate to call today at (913) 488-9211 or visit our website to fill out a form.
We look forward to working with you!