Is Your School, Office, or Medical Facility Being Properly Disinfected?
It's been nearly a year since our collective world changed in response to the Coronavirus and nearly a year since many other cleaning companies had to learn completely new cleaning protocols. As a locally-owned family business that employs trained and supervised staff instead of sub-contractors, we did not. And as a commercial janitorial service specializing in medical facilities, schools, and other high traffic/high hygiene facilities, it was just another day at the cleaner office for us.
Those cleaning services that employ sub-contractors or pay franchise fees have traditionally needed to rush through each space to pay those extra expenses via higher volume. When the objective is a healthier workspace, one cannot have a "need for speed." And now almost a year later, we still hear of office buildings, schools, clinics, distribution centers, and other high-traffic facilities that are still not being properly disinfected on a daily basis. Sure, they are sending someone around wiping down surfaces and handles more often, but they are then wiping off the disinfectant before it has a chance to work. Or they are using the same wipe and spreading whatever it picks up onto the next surface.
Disinfectants require "dwell time" on the surface to do their job. A spray and wipe or just a wipe do next to nothing.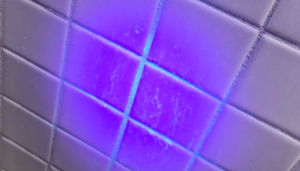 If you're unsure about the disinfection practices in your workspace, we'd love to come out and take a look. We'll bring our UV MC Lights and together we'll inspect all of the important areas you need to be as germ-free as possible. Then you can take the necessary actions to ensure both a healthier workspace and peace of mind for those who work there.
Meanwhile, here are some guidelines from the CDC that we've been exceeding for years.