How Better Organization Can Keep Your Office Cleaner
Indeed, people often think about organization and cleanliness as the same thing. However, there is a big difference between the two. These two important tasks complement each other and make your office run smoother. In this article, we'll cover the differences and how being organized can help your office remain cleaner.
Defining "Organized" and "Clean"
Organization is defined as the act of arranging things in a way for a purpose. Clean is described as being clear of dirt and stains. Although they each help each other maintain a great place of business, they are different.
Many people choose to organize things in their own way as everyone has a system that works best for them. However, most companies will hire a commercial cleaning service in Overland Park to clean the space where you work. It takes a great amount of time to clean an office properly to make it a safe place for everyone. Overland Park cleaning companies aren't there to organize, their job is to clean.
How Can Organizing an Office Help Keeping it Clean?
Keeping your papers, books, and office supplies organized and filed means your desk space is open and can be properly wiped down by your Overland Park commercial cleaning service.
When your desk is covered with items, an Overland Park office cleaning service is often forced to skip over that desk. They don't want to risk disrupting moving anything important on that specific desk. This means weeks or months of germs and bacteria are of living on the surface of your desk if it is covered in clutter, files, or trash.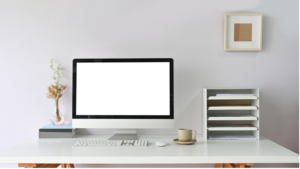 Here are a few of basic ways you can make sure your desk stays organized and germ-free:
At MC Janitorial, we offer premium Overland Park janitorial services. Our company aims to keep your office or retail space healthy and germ-free as often as you need. We provide a variety of services, including green cleaning services in Overland Park, to keep your employees safe naturally. Plus, our flexible scheduling will accommodate your normal hours of operation.
Call us today at (913) 488-9211 or visit our website to fill out a contact form for a free quote. We look forward to showing you how our services can benefit your company today!