Getting Your Kitchen Ready for the Next Sanitation Audit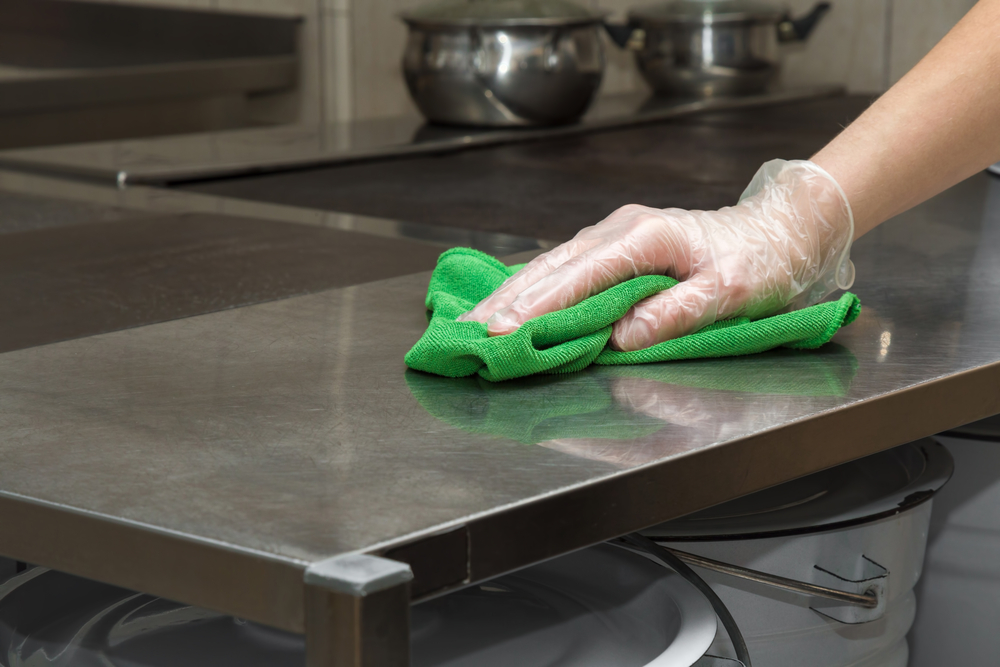 Kitchen cleaning is a basic form of upkeep that facilities that serve food should perform regularly. A well-kept kitchen minimizes accidents due to workplace hazards. It also helps you prevent a failing mark on a health inspection. A failed sanitation audit puts your operations to a halt, resulting in loss of revenue and reputation.
One of the major violations of a commercial kitchen is non-adherence to the guidelines on proper and safe food handling, as outlined by the U.S. Food and Drug Administration (FDA). According to the Centers for Disease Control and Prevention (CDC), approximately 48 million cases of food-borne illnesses occur yearly in the country. Food handlers can easily prevent many of these cases by following the established guidelines.
Commercial Kitchen Cleaning: Preparing for the Sanitation Audit
Since inspectors drop by unannounced for an audit at least once a year, your best strategy to get a passing grade is to be ready for the inspection at all times. Here are some of the ways you can prepare your commercial kitchen for a successful inspection and avoid preventable violations on food safety.
Familiarize Yourself with State and Government Food Regulations
The FDA makes an update to the Food Code every four years. This document contains best practices along with guidelines that local and state health departments can refer to when making their health regulations. It would be good to review both the state rules and the Food Code so that you can educate your employees on food safety issues that apply to your operation.
Come up with a Kitchen Cleaning Checklist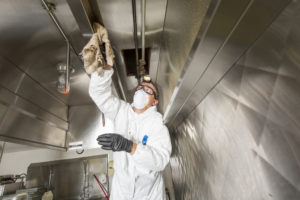 Thorough and regular cleaning of the kitchen is key to averting a failed inspection. Bacteria can proliferate if employees fail to clean ingredients, countertops, cooking utensils, and their hands frequently. If you want to maintain the high standard of cleanliness in your commercial kitchen, make a checklist detailing the sanitation tasks that must be finished by your staff during the working day and at the end of a shift. These lists usually include:
Sweeping, mopping, and sanitizing floors
Emptying trash bins
Cleaning kitchen equipment, such as grease traps, grills, and fryers
Changing the rags and sanitizing water frequently
Washing and sanitizing all kitchen surfaces
Equally important to making this list is checking the completed cleaning tasks of the employees regularly to make sure they're doing it correctly. Without your continued follow up and the cooperation of your staff, it's easy to overlook vital sanitation tasks, which could affect business operations once an inspector visits your establishment.
Invest in the Professional Maintenance of Kitchen Exhaust Systems
The purpose of the exhaust hoods in a commercial kitchen is to gather airborne grease, which affects the quality of the food prepared in the kitchen and is also a fire hazard. Grease can trickle from the hood system onto the prepared dish, which may contaminate the food. Additionally, employees can no longer use cooking utensils and equipment with grease drippings on them.
Cleaning the exhaust hood system thoroughly is crucial to meeting sanitation inspection standards. You can achieve this goal by enlisting a professional that can properly execute the kitchen hood cleaning process and guarantee that your cooking area is both up to code and safe from fire.
Perform Regular Self-Inspections
Conducting unexpected self-inspections can also keep your commercial kitchen in line with the sanitation standards of your local health department. It's a good idea to perform these inspections at different times. This way, workers will put more effort into adhering to the essential kitchen safety and health practices.
Administering surprise audits also alerts you on any reoccurring or common violations that occur in your kitchen, such as:
Food left unrefrigerated for too long
Ready-to-eat foods coming into contact with raw meat
Dirty utensils and cooking surfaces
When performing these self-inspections, check for common sanitation violations more frequently until the staff has solved the problem. On top of that, reward workers who can correct these violations quickly.
Follow the Best Cleaning Practices for Kitchen Sanitation
On top of self-audits, you can have your staff adhere to best practices that keep your kitchen clean. Some of these are:
Leftovers – Workers should wrap leftovers at the end of each shift, labeling the contents and date, rotating, and putting them away. They should also dispose of aging leftovers at the start of the next shift. In many restaurants, the leftovers from one shift usually provide the staff meal for the following shift. Whatever the case, make sure to have your employees rotate old food out of the cooler constantly.
Sinks – Check the condition of the sinks at the end of each shift. Hand washing areas should not contain food trash or any debris in them. If the sink is dirty, use a sanitizer to eliminate surface germs and wipe the area using a clean towel. Make sure that the plumbing system is in excellent working condition, as the slow drains can turn into a breeding ground for germs.
Freezers and Refrigerators – Kitchen staff should sweep and mop walk-in units every day, as well as check and calibrate thermometers regularly. They should also look at the date on food items and make sure these are still within the safe range of use.
Keeping these suggestions in mind will prepare you for the unexpected and inevitable sanitation audit. When you need a hand with maintaining the cleanliness of your kitchen to pass inspection, MC Janitorial is here to help. We provide superior commercial kitchen cleaning services in Kansas to keep your establishment spotless.
What makes us different from other cleaning providers is that we have an A+ rating with the Better Business Bureau (BBB) and a proud member of the Building Service Contractors Association International (BSCAI). On top of that, we are a green-certified cleaning specialist that uses environment-friendly methods and equipment for our janitorial services. With our more than three decades of experience in the cleaning industry, rest assured that your facility is in good hands. Contact us today for more information about our services.